DACs
EL DAC II+
---
$299
In Stock, Ships in 1-2 Days
Covered by our 2-year transferable warranty
Simplified Audio, Re-engineered
We designed the Element Line for precision fit and function. EL DAC II+ furthers the exceptional performance of its predecessor with relay muting, an XMOS based UAC2 engine with PCM and DSD support, transformer isolated coaxial input, and a higher performance optical input. Optionally choose Balanced Outputs for the flexibility of connecting to any amplifier, or choose a BT5 Module for wireless streaming. Stack with EL Amp II+ or EL Amp II+ Balanced for single button switching between headphones and speakers.
"
EL DAC II+ is unexceptionally well-executed DAC. I have no doubt that you (or I) could spend far more but I'm not sure you can get anything better anywhere near this price.
---
TNT-Audio Reviews JDS Labs EL DAC II+, July 2023
Gallery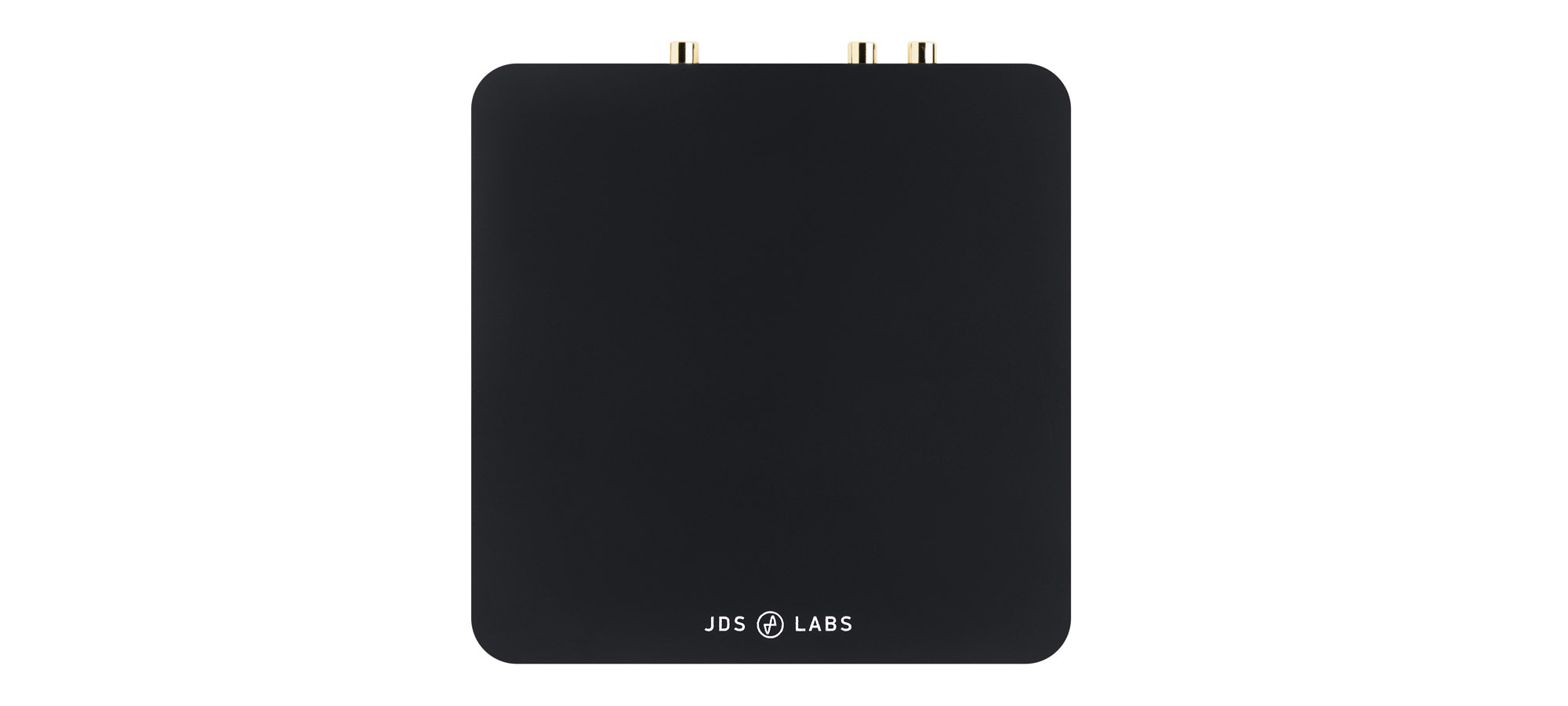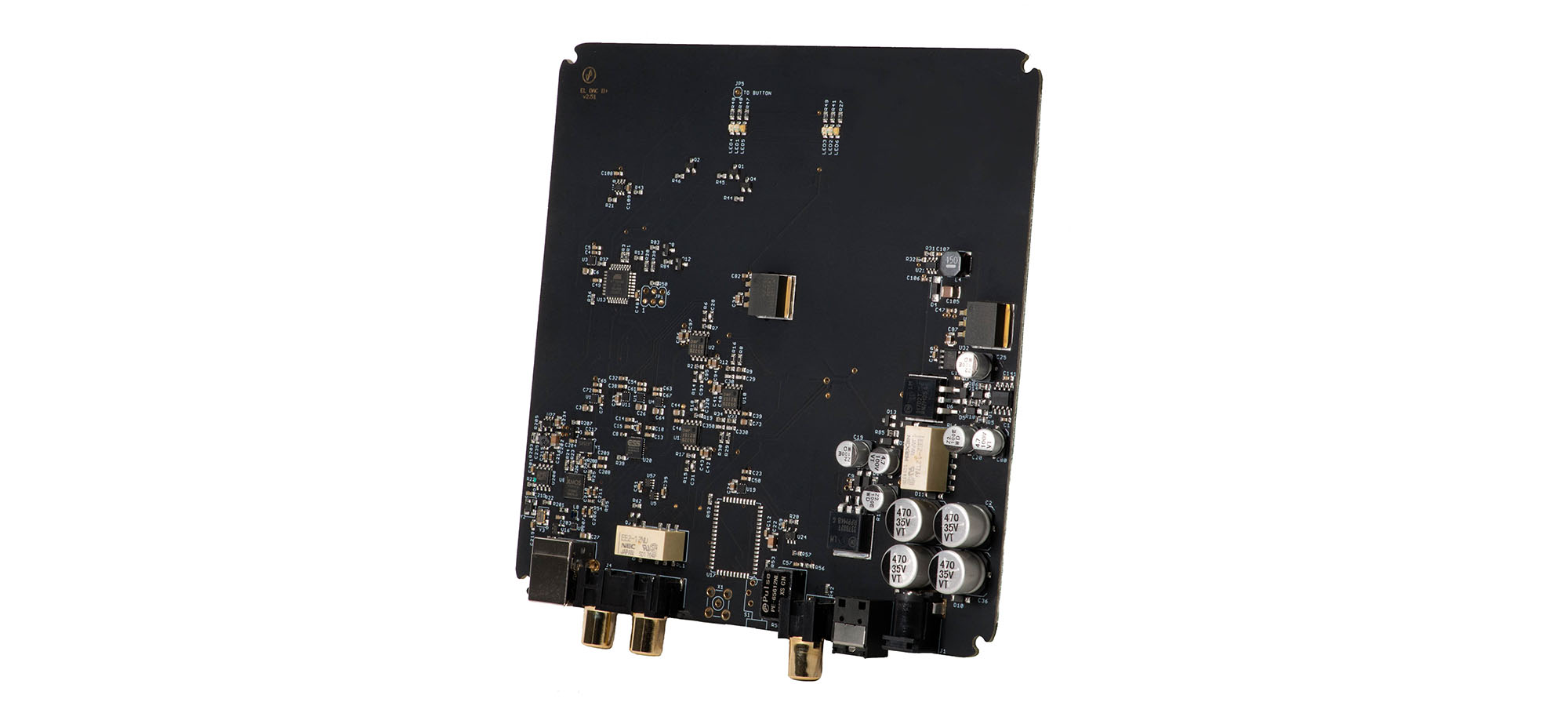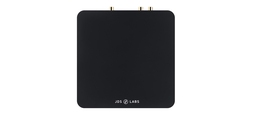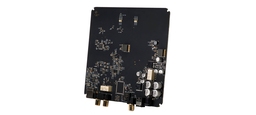 Features
MEMS Oscillator
EL DAC II+'s USB engine is clocked by an SiTime MEMS oscillator, delivering pristine jitter.

Relay Muting
Microprocessor controlled relays are standard in EL DAC II+ so that power up and input mode changes are free of audible transients.

USB Audio Class 2
EL DAC II+ supports up to 32/384kHz PCM over a custom XMOS XU208 based UAC2 engine. While we claim no measurable superiority of high sampling rates, UAC2 and ASIO support satisfy your pursuit of bitperfect listening.

Externally Powered
EL DAC II+ is powered by a perfected supply network, with an external AC transformer and 14 regulators that ensure consistent rail voltage and super low ripple. Never be bothered by USB hubs or OS power difficulties again.

Light Ring
Enjoy the presence of your EL DAC II+ with front and center mode selection via a touch-sensitive light ring.

Differential Summing Output
Differential output of an ESS Sabre DAC is paired with our unique, DC coupled, precision tuned I/V converter with three stages per channel, or six NJM opamps in total. Optional Balanced TRS Outputs and single-ended RCA Outputs provide flexibility of connecting to any amplifier.

Transformer Isolated S/PDIF
Coaxial S/PDIF input is isolated using a Pulse transformer to minimize the possibility of ground loop noise.
ASIO and DSD Support
EL DAC II+ provides an ASIO endpoint and automatic handling of PCM and DSD playback. Live sampling rate and status mode information is available in the XMOS control panel.

Upgradeable Firmware
Our custom XMOS based firmware configures and manages EL DAC II+'s USB input and DAC, with DFU support for possible future feature additions.

Optional Bluetooth 5
An optional Bluetooth 5.1 module feeds the received digital audio signal directly to the DAC via S/PDIF, relying on ESS's patented jitter recovery to deliver maximum performance from the wireless transmission.

Specifications
DAC Performance
Frequency Response 10Hz-20kHz

+/- 0.12 dB

SINAD @ 1kHz, 20-22.4kHz

> 112 dB

THD+N, 20Hz-20kHz

< 0.0004%

SNR, 20Hz-20kHz

> 117 dB

IMD CCIF, 19/20 kHz -6 dBFS

-115 dB

Noise, A-Weighted

-112 dBV

Dynamic Range, AES17, A-Weighted

120 dB

Linearity Error -90 dBFS

-0.02 dB

Crosstalk, 1kHz, 100k Input

-132 dB

Maximum Single-Ended Output (RCA)

2.0 VRMS

Maximum Balanced Output (TRS)

4.0 VRMS

USB Jitter Components @ 12kHz

-130 dB

PCB Stackup

4 Layers
Dimensions
Case Dimensions

5.8 x 5.8 x 0.9 in

Weight

13 oz
Connectivity
Digital Inputs

USB, TOSLINK, and Coaxial S/PDIF

Line-Output (SE)

RCA

Line-Output (Balanced)

TRS 5.
1. Many sources are unable to reliably transmit at 192kHz.
2. UAC1 supported by UAC1 Fallback Cable, sold separately
3. Appropriate cables are required for Android, iOS, and PS5
4. Bluetooth mode requires optional BT5 Module
5. Balanced Outputs are installed by default. Please note the optional BT5 module takes the place of Balanced Outputs.
Packaged Items
EL DAC II+
15VAC Power Adapter
3ft USB Type A to Type B Cable w/Ferrite
6ft TOSLINK Cable
Drivers
XMOS Driver v5.58 for Win 10/11

XMOS driver v5.58 supports Windows 10/11, and is optional. No drivers are required for macOS, Linux, or Windows 10/11.

This driver enables ASIO support, provides the ability to view and adjust Buffer Settings (latency), supports 16/24/32-bitrates, and adds full DSD64-128 support to Atom DAC+, EL DAC II+, and Element III.

All XMOS based JDS Labs DACs are supported, including:

Element III (MK2)
Atom DAC(+)
EL DAC II(+)
Element II

This driver is developed and maintained by Thesycon, and licensed to JDS Labs. Please find the full change log at TUSBAudio_history.txt.

Optional - XMOS Firmware Update Utility (DFU) for Win 10/11

This optional application for Windows 10/11 allows you to install firmware updates to XMOS based JDS Labs DACS, including:

Element III
Element II
EL DAC II(+)
Atom DAC(+)

To use, unzip the folder and follow instructions in the article How to Install an XMOS Firmware Update.

XMOS Driver v4.13.0 for Win7/8 - EL DAC II

Archived XMOS driver v4.13.0 is required for UAC2 in Windows 7/8. Alternatively, you may use UAC1 fallback.

For Win10/11, please use the most recent XMOS driver v5.30.0.
Firmware
EL DAC II+ Firmware v2.1.2

WINDOWS 10/11 INSTALLATION
Please install the latest XMOS Driver, then use the Optional XMOS Driver and XMOS Firmware Update Utility (DFU).

MAC OR LINUX INSTALLATION
Please refer to: https://github.com/jdslabs/xmos_dfu

Please refer to included README.txt for further information. Detailed installation guidance for all operating systems can also be found in the article, How to Install an XMOS Firmware Update


CHANGELOG

v2.1.2 (Released Nov 09, 2022)
* Mute output when USB audio is inactive, to prevent unexpected sounds from Linux or Android systems

v2.1.0 (Released Feb 23, 2022)

* Updated core XUD, USB, and I2C libraries
* Move to RAM based-settings developed for Element III
* Enforce de-emphasis OFF in USB mode, and Auto de-emphasis in S/PDIF mode
* Improved error handling when USB Host is in standby
* Faster mode switching
* Changed default DPLL from 5 to 7 to improve general compatibility with 4k TVs
* Improved UAC1 Descriptors to support Nintendo Switch
* Disable operating system volume controls by default: Support PS4/PS5

Warning: EL DAC II+ firmware is NOT compatible with EL DAC II. For more information, please see Custom Firmware Builds.