Amplifiers
EL Amp II+ Balanced
---
$249
In Stock
Covered by our 2-year transferable warranty
Balanced Inputs?!
You won't find any claims of balanced audio superiority here. We built EL Amp II+ Balanced for those who need balanced connectivity. Maybe you have an audio interface or DAC with XLR or TRS outputs, and had to pass on EL Amp II+ because there's no ideal way to connect to RCA Inputs. EL Amp II+ Balanced is functionally equivalent to its unbalanced sibling, EL Amp II+. It's housed in a precision machined aluminum chassis, with plentiful power, button activated preamp RCA outputs, and a beautiful knob.
Gallery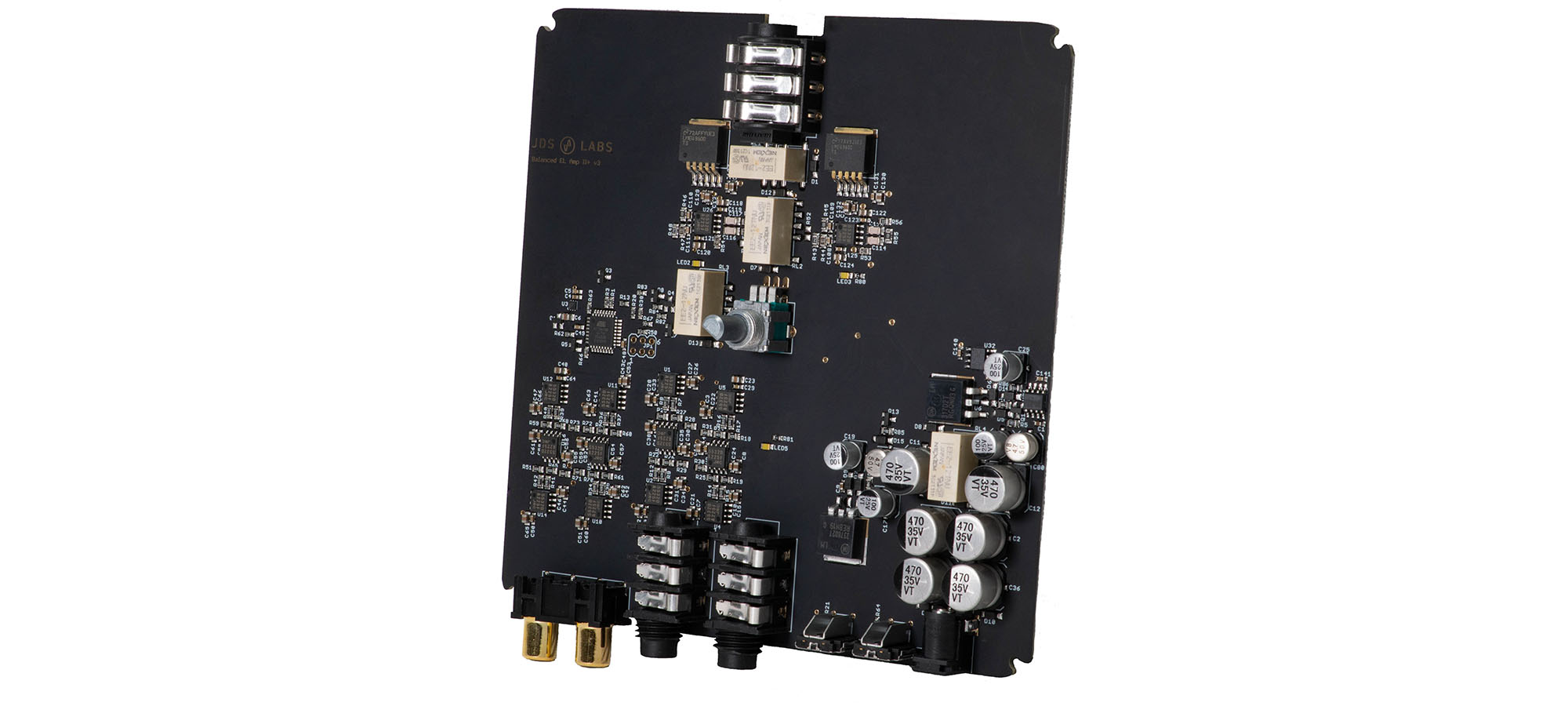 Features

Preamp Outputs
EL Amp II+ Balanced provides preamp outputs, so that you can control volume of your powered speakers.

Output Selection
The Mode button allows you to toggle between headphones and powered speakers. No need to disconnect cables!

Relay Muting
Designed for desktop listening, full relay muting eliminates pops and thumps during startup through both the headphone and preamp outputs.

Plentiful Power
With +/-15VDC rails and continuous max power of 1.2W, EL Amp II+ Balanced drives all headphones on the market to extraordinary levels, from balanced armatures to planar magnetics.

Single-Ended Headphone Output
Balanced input, single-ended 6.35mm output, as it should be. Headphone drivers are inherently single-ended and we actively discourage balanced headphone outputs.

Dual Gain
Low gain of 1.0x is well suited to driving efficient headphones, while High gain easily powers demanding full size sets.
Specifications
Performance
Frequency Response 10Hz-20kHz

+/- 0.01 dB

SINAD @ 1kHz, 4VRMS

> 114 dB

IMD SMPTE

-94 dB

Noise (20-20kHz)

1.95 μV

Crosstalk @ 10kHz

-84 dB

SNR (20-20kHz)

126 dB

Dynamic Range (AES17) @ 4VRMS

125 dB

Output Impedance

< 0.7 Ω

Channel Balance @ -25 dBFS

+/- 0.56 dB

Max Continuous Power, 600 Ω

153 mW (9.6 VRMS)

Max Continuous Power, 300 Ω

288 mW (9.3 VRMS)

Max Continuous Power, 32 Ω

1.23 W (6.27 VRMS)
Dimensions
Case Dimensions

5.8 x 5.8 x 1.6 in

Weight

17 oz
Connectivity
Headphone Output

Single-Ended TRS, 6.35mm (1/4")

Input

Balanced TRS, 6.35mm (1/4")
Configuration
Dual Gain

1.0x and 2.43x

Volume Potentiometer Taper

Alps 15A
Packaged Items
EL Amp II+ Balanced
16VAC Power Adapter
Instructions & Guides
Related Products